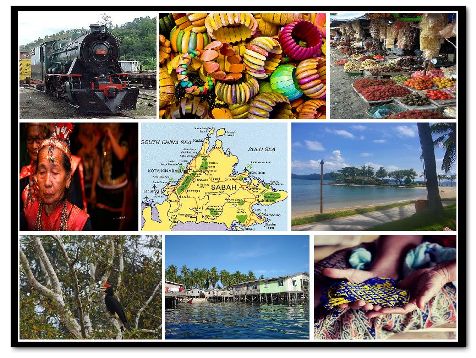 Sabah, Malaysia was a place that was rich not only in natural resources,
but also in the cultural heritage of its people. Sabah's civilization was
not advanced and some areas were almost isolated.(1966~1969)
I worked in Sabah for three years when I was young and full of vigor.
I loved being devoted to a developing country. Although you might
not know where it is located and circumstances have changed with the
passing growth, Sabah still has a special place in my heart.
The tropical days in Sabah were hot and humid throughout the year,
but once it rained when I lived there, I felt "the heavens open."
People wore sarongs to slakeoff the heat and the heat caused them
to livein a slow-moving style. Their hypnotic dance was a symbol of
typical Sabah life. Their passenger train was also slow enough
for me to hop on and off while it was moving,and when the rail
disappeared into the jungle growth, it was wonderful to view from
the window.
Appreciating the natural beauty and learning the native life were
Amazing to me in Sabah . Strolling among the plantations in the country
was an eye opener. I discovered beautiful things- streams, valleys, hills,
waterfalls, flowers, birds,and insects, primates that provided all kinds
of "music" pleasant to the ears. Strolling out to the nearby forest,
there were many species of orchids, thousands of unnamed spices,
and flower plants. I smelled the fragrance of flowers and breathed
the fresh air in the wild.
While visiting the Murut in the inaccessible interior of Sabah,
there were numerous long houses that provided a taste of
the tribe's primitive culture. People in the tribe used to adorn their necks,
arms and legs with heavy brass coils besides a piece of sarong that
covered their bottoms. Although their traditional habits of headhunting
were abandoned, we still saw skulls hanging in the long houses as a
spirit of belief in their culture.
A tamu (open market) in Sabah was an interesting place to
browse around. Tribal women displayed fresh fruits and vegetables
in front of a water village along the sea:big papayas, durians,
coconuts and other tropical fruits that were unnamed.
They served typical Malaysia foodstuff:beef barbecue with
"satay" and coconut sauces,fried banana and coconut snacks.
There were village craftworks, colorful bead's work in all sizes
and shapes, batik sarongs, and needle weavings with difference designs.
This was an unspoiled place on earth, a place close to nature.
While people there were lacking a more global view and information,
life there seems unchanged. We have been trying to help them to
improve their life,(1966) but hoping that the natural type of life in Sabah
will not be deteriorated.
I have been working in Kotakinabalu,Sabah,Malaysia for 3 years from 1966 to1969.
This was a essay that I wrote in 2001 while I was taking ESL class in US.
後記: 在馬來西亞工作三年,是我人生的轉"擂"點, (不論它的成敗,功過如何),
這是2001年的 ESL class 作業。目前已失去學習能力的我,就POST在我的blog,
作為紀念。